Description
Lidia Bedden wants me to find Red Apples.
Quest Giver
Lidia Bedden in Bedden Orchard in Dagmar Strand.
Tasks
Pick 15 Red Apples from the apple trees in Bedden Orchard.
Reward
1 silver, 60 copper
1000 XP
Walkthrough
Journal Entry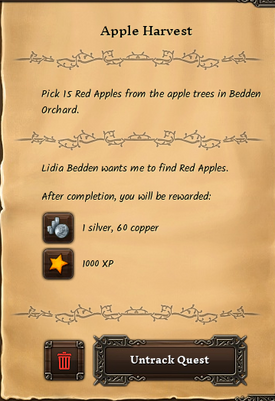 Ad blocker interference detected!
Wikia is a free-to-use site that makes money from advertising. We have a modified experience for viewers using ad blockers

Wikia is not accessible if you've made further modifications. Remove the custom ad blocker rule(s) and the page will load as expected.