Description
Cyprian claims his wife won't let him eat and drink some of his favorite things. He will reward me every day I bring him his vice.
Quest Giver
Cyprian in Crafter's Square in Ardent City (E3).
Tasks
Bring Cyprian some a glass of Raspberry Pinot.
Reward
1 silver
2000 XP
Enabler (speed reward)
Walkthrough
Every day a different kind of food or beverage can be asked.

Bacon from the Harvest Vendor Gredel in Market Row for 1 copper.
Raspberry Pinot from the Food Vendor for 40 silver.
Mead from the Food Vendor fro 1 silver.
Apple Pie from the Food Vendor for 1 silver, 10 copper.

Return to Cyprian with the requested item to receive your reward. !!! The speed reward is immediately.
Journal Entry & Video Walkthrough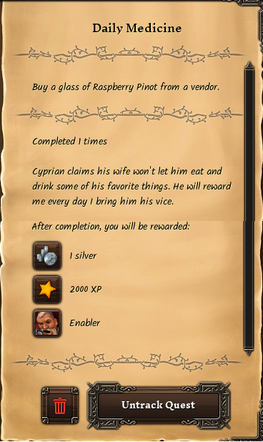 Ad blocker interference detected!
Wikia is a free-to-use site that makes money from advertising. We have a modified experience for viewers using ad blockers

Wikia is not accessible if you've made further modifications. Remove the custom ad blocker rule(s) and the page will load as expected.