Description
Ginny wants me to practice Gnogmenting. He said he will give me any amount of weapons I need to practice with..
Special Info
He only shows up when you are on the The Mystery of the Malicious Miscreant quest. In case he still doesn't appear: Talk to Patrick McIver E6 (carpentry wheel). Then Ginny will show.
Quest Giver
Ginny E5 in Summer's Hollow (!!!He appears only when you get the The Mystery of the Malicious Miscreant quest.)
Tasks
Open the bos of weapons Ginny gave me (Double click the item in your inventory).
Rewards
1 silver, 20 copper
400 XP
2 Sockets
Walkthrough
Open the box Ginny gave you to receive 5 weapons appropriate to your class.
Click on an open workbench at the Gnomish Workshop beside you and use it to combine any two weapons into a new weapon.
Perform a second |Gnogmentation and then speak to Ginny to receive a reward.
Notes
You can speak to Ginny again at any time to receive another box of weapons.
Journal Entry & Video Walkthrough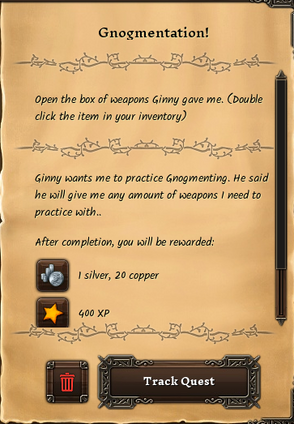 Ad blocker interference detected!
Wikia is a free-to-use site that makes money from advertising. We have a modified experience for viewers using ad blockers

Wikia is not accessible if you've made further modifications. Remove the custom ad blocker rule(s) and the page will load as expected.