Description
I found a little girl in the middle of nowhere who claims to be Queen. She instructed me, her 'noble hero', to gather boars' hair. How can I refuse?
Quest Giver
Nadia in Lady's Lake near the portal from Ardent City (D2).
Tasks
'Queen' Nadia requires 10 clumps of Boar Bristles.
Reward
Walkthrough
Journal Entry & Video Walkthrough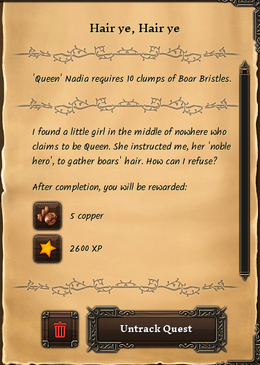 Ad blocker interference detected!
Wikia is a free-to-use site that makes money from advertising. We have a modified experience for viewers using ad blockers

Wikia is not accessible if you've made further modifications. Remove the custom ad blocker rule(s) and the page will load as expected.