Description
Custodian Geretrudis is breathless from chasing the King's visiting distant cousins around and wants me to bring them each a message. I should look carefully, as they may be hiding.
Quest Giver
Custodian Geretrudis by the portal in Ardent Castle (F5).
Tasks
Rewards
Walkthrough
Journal Entry & Video Walkthrough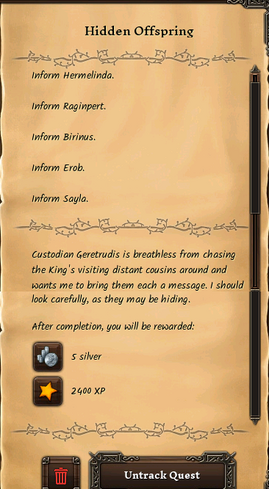 Ad blocker interference detected!
Wikia is a free-to-use site that makes money from advertising. We have a modified experience for viewers using ad blockers

Wikia is not accessible if you've made further modifications. Remove the custom ad blocker rule(s) and the page will load as expected.