Description
Gavin wants 3 Potatoes for a stew, though I'm sure he could tell the difference between a spud and a speleosaur...
Quest Giver
Gavin in the Castle Courtyard in Ardent City (B5).
Tasks
Find and Deliver 3 Potatoes to Gavin
Reward
Walkthrough
Potatoes are grown in a garden.

So you can either buy them from the Auction House.
Go to a village, buy a house, and garden and grown your own (requires level 7 Gardening).
Get them from a friend.
Journal Entry & Video Walkthrough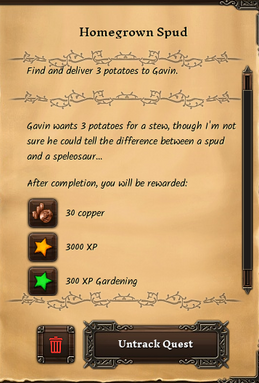 Ad blocker interference detected!
Wikia is a free-to-use site that makes money from advertising. We have a modified experience for viewers using ad blockers

Wikia is not accessible if you've made further modifications. Remove the custom ad blocker rule(s) and the page will load as expected.