Description
Just like a previous quest you have to bring the numbers of wolves down in the area. Just hack and slash 5 Wolf Raiders.
Notes
Tasks
Rewards
Journal Entry's
There are too many wolves around. I am taking it upon myself to do a little population control.
Population... controlled.
Journal Entry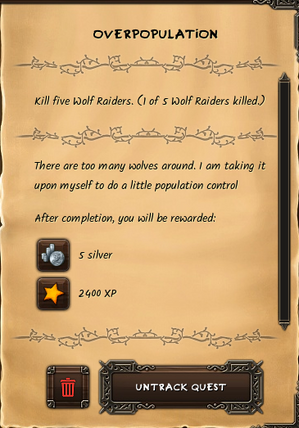 Ad blocker interference detected!
Wikia is a free-to-use site that makes money from advertising. We have a modified experience for viewers using ad blockers

Wikia is not accessible if you've made further modifications. Remove the custom ad blocker rule(s) and the page will load as expected.