Description
My first task as referee is to pick up a payout from Wilgefortis in the Kennel. I will need to be wearing the Referee's Collar.
Quest Giver
Gaming Commissioner just outside the fighting pits in Daggertooth Pits (C5) after completing Interference.
Tasks
Get the payout from Wilgefortis !!Remember you have to wear the necklace.
Rewards
Walkthrough
Enter the Daggertooth Kennel and locate Wilgefortis in a room on the east side of the zone (G3) north Gore Boar. Have the Referee's Collar in your inventory when speaking to him to collect the 10 silver he owes.
Completing the quest is a little glitchy. The Gaming Commissioner has a yellow star over his head, but if you give him the 10 silver, the quest won't complete. In fact, you can keep giving him 10 silver and the quest will never complete. Instead, give the 10 silver to Ereluva after you have learned the name of the commissioner's daggertooth during the Daggertooths Have Feelings, Too quest to actually complete this quest.
Journal Entry & Video Walkthrough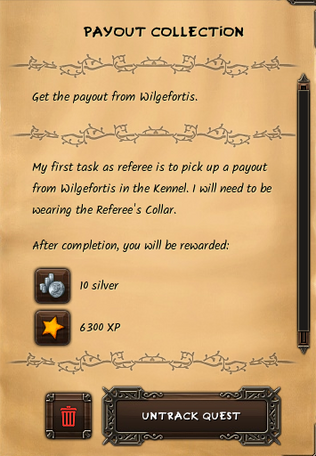 Ad blocker interference detected!
Wikia is a free-to-use site that makes money from advertising. We have a modified experience for viewers using ad blockers

Wikia is not accessible if you've made further modifications. Remove the custom ad blocker rule(s) and the page will load as expected.