Pick Ax Murderer
Quest Giver
Vedrana in Lady's Lake (E3)
Level
13
Type
Sidequest
Location
Lady's Lake
Rewards
5 silver, 60 copper
2600 XP
Prerequisite Quest
None
Next Quest
None
Description
Borislav is death on axes and needs a back up. Hopefully picks are the only thing he's good at snapping in two.
Quest Giver
Vedrana near the teleport pad in Lady's Lake (E3).
Tasks
You'll have find Borislav to the north by the Mining Rocks (E1). Give him the new pick to complete the quest.
Deliver the pick ax to Borislav.
Reward
5 silver, 60 copper
2600 XP
Walkthrough
Journal Entry & Video Walkthrough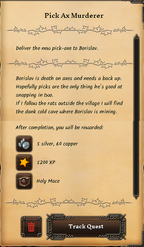 Ad blocker interference detected!
Wikia is a free-to-use site that makes money from advertising. We have a modified experience for viewers using ad blockers

Wikia is not accessible if you've made further modifications. Remove the custom ad blocker rule(s) and the page will load as expected.