Description
Norma is worried about her chickens which have run off. She wants me to go tell them to come home.
Quest Giver
Norma in Elk Meadow by the portal to Oak Valley (G3).
Tasks
Reward
5 silver, 50 copper
6600 XP
Walkthrough
Find each of Norma's chickens and tell them to come home:
After talking to all five chickens and noticing that each was poking at a sign with a letter, return to Norma to complete this quest and begin Puzzling Poultry.
Journal Entry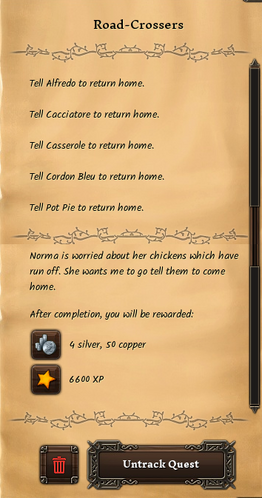 Ad blocker interference detected!
Wikia is a free-to-use site that makes money from advertising. We have a modified experience for viewers using ad blockers

Wikia is not accessible if you've made further modifications. Remove the custom ad blocker rule(s) and the page will load as expected.