Shiverspine



Click to Enlarge
Vital statistics
Type
Mainland
Level
35-40
Location
Stormhold
Inhabitants
Humans
extra map: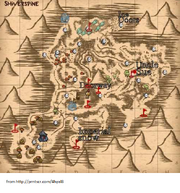 Info
You need a Shivergear outfit (made by 8 Snow Silk - only the snowdrider drop this) it suppresses the 'Shiverpine Chill effect', that causes you to walk very, very slow . There is a quest for it: Shivergear
Description
A land of snowy solitude, Shiverspine is home to those who love icefishing and frostbite.
NPCs
Portals
Crafting Stations
Resources
Monsters
Bounties
Zingara
Quests
Achievements
Ad blocker interference detected!
Wikia is a free-to-use site that makes money from advertising. We have a modified experience for viewers using ad blockers

Wikia is not accessible if you've made further modifications. Remove the custom ad blocker rule(s) and the page will load as expected.