Description
Wow, this poor man was transformed into an archery target! To free him, I must take on a very deadly quest indeed. First I must scale Mount Deadly and defeat Lord Hurtsubad, then take Lord Hurtsubad's map and collect the seven Gems of Torture. After that I must travel to the Fires of Agony to forge the great Mace of Migraines. I had better ask Jerome how to get to Mount Deadly.
Quest Giver
Jerome by the archery targets in Ardent Castle (D6).
Tasks
Get more information from Jerome about his predictament.
Reward
Walkthrough
Journal Entry & Video Walkthrough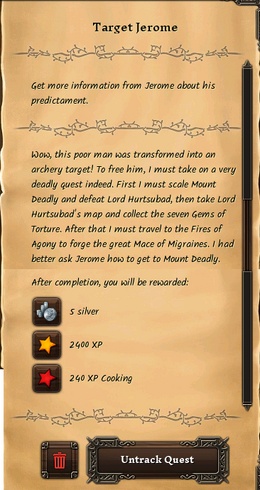 Ad blocker interference detected!
Wikia is a free-to-use site that makes money from advertising. We have a modified experience for viewers using ad blockers

Wikia is not accessible if you've made further modifications. Remove the custom ad blocker rule(s) and the page will load as expected.