Description
Hubert said he just saw Carwen on her way down to Bedden Orchard to practice her lines for the play. With Clementine gone, Carwen now has the starring role. I should go talk to her!
Quest Giver
Hubert D6 in Dagmar Strand.
Tasks
Talk to Carwen in Bedden Orchard on the east side of Dagmar Strand.
Return to Eugenio. He should be in Summer's Hollow.
Rewards
1 silver, 20 copper
4800 XP
Walkthrough
Go west to Bedden Orchard and talk to Carwen and ask her what she was doing in the barn. She doesn't really tell you anything.
Return to Eugenio in Summer's Hollow and tell him all that you learned.
Keep talking to him to get the follow up quest: The Scoop On Drama.
Journal Entry & Video Walkthrough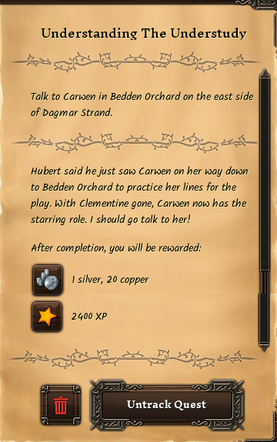 Ad blocker interference detected!
Wikia is a free-to-use site that makes money from advertising. We have a modified experience for viewers using ad blockers

Wikia is not accessible if you've made further modifications. Remove the custom ad blocker rule(s) and the page will load as expected.